December 7, 2019 at 3:11 am

|

on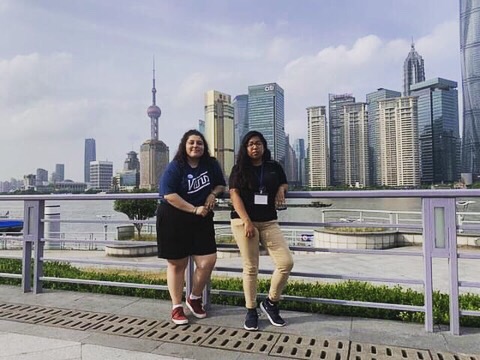 The i.am Angel Foundation was once again happy to support high school students with a travel abroad opportunity. This summer, the foundation sponsored two students to Shanghai, China to be immersed in culture, food, and education. 
Boyle Heights STEM Magnet High School students, Alondra Ceja and Jackelin Sanchez, applied for the program through CIEE, an organization connecting students with study abroad opportunities. The girls were lucky enough to qualify for a grant that covered their cost of living while on the trip, but unfortunately not their travel expenses. That meant Alondra and Jackelin had to pay for their flight, and coming from low income families meant both of them had to earn the money on their own. They started selling chips and sandwiches at their school in order to raise enough funds.
With the determination shown by both of these students, the i.am Angel Foundation was happy to help cover their travel expenses. Alondra and Jackelin got to travel, learn Mandarin, work in a university setting, and meet new people. We spoke to them about how they are taking what they learned from their study abroad opportunity and are using it to shape their future.
The interview below was written and conducted by Kevin Balderrama from the STEM Academy of Boyle Heights.
i.am Angel Foundation: Where did you go?
Jackelin Sanchez: Shanghai, China
IAA: Why did you want to go there?
Alondra Ceja:  I chose to go to China because I find the language and culture intriguing as it is so different from my own. I also wanted to experience a completely different environment than what I'm used to.
IAA: How did you get the chance to go? Where did the funds come from?
AC: The program I went with, CIEE, provided a full coverage scholarship for the program itself. The flight was covered by the i.am Angel Foundation, which I am extremely grateful for.
IAA: Who did you meet?
JS: I was able to meet all the other students participating in the program from across the U.S, making close friends with some of them. I was also able to meet a lot of nice folks living in China like my host family.
IAA: What did you do while you were there?
AC: Everyday aside from the weekends, we went to school for about three hours for Mandarin lessons. After class they had us do community conversations in which we would ask random strangers a series of questions regarding to what we learned in class that day. We also had final projects at the end of each week, which made us put into use what we had learned that week. We would also have cultural activities after lunch. Everyday we had a different cultural activity like a Chinese theatre class, Chinese dance class, visiting historical sites, painting, etc. We also took a weekend trip to Hangzhou and visited several pagodas and temples that held an interesting history that contributed to the Chinese culture. Our program leaders would also give us free time to explore the city on our own after our cultural activities.
IAA: What did you learn on thie trip?
JS: I was able to learn a lot about the Chinese culture in depth since we were always informed by the Chinese citizens themselves about the traditions they carried from their past generations. I also learned enough Mandarin to get around Shanghai without struggling as much, thanks in part to the everyday classes and for having such a caring teacher.
IAA: What are some of the challenges you faced?
AC: When I first arrived in China, I did experience a wave of culture shock. As soon as we arrived we were picked up by our host families and in my case my host mom did not speak English and I spoke no Mandarin whatsoever. Everything was so different from what I was used to. I eventually got used to my surroundings and enjoyed being so far from home.
IAA: Did you have any fears?
AC: A fear I remember having was not being able to communicate with my host family and vice versa. There was always that language barrier because I didn't speak Mandarin and sometimes I was scared that something I said was going to be misinterpreted. Google Translate couldn't really be trusted.
IAA: How did you overcome them?
AC: I overcame this fear as I started getting comfortable with my host mom. We started to get to know each other regardless of the language barrier and it was enough to understand with hand gestures at times. She would teach me some words and phrases in Mandarin while I did the same, but in Spanish and English.
IAA: Did you get inspired by the culture of the people?
JS: I was inspired by the culture of the Chinese people in the way that they live their lives, which is very busy starting at a young age. I was able to see how they are able to do so much work in one day and everyday, even during their summer break.
IAA: What will that inspiration help you achieve?
JS: It made me reflect on the things I do when I have such an amount of free time. Like during the summer and how I could definitely be more productive with my everyday life.
IAA: What was the highlight of the trip?
AC: The highlight of the trip for me was meeting a lot of new people that instantly became close friends. I still talk to these people almost every day since the trip ended.
IAA: Do you plan on visiting again?
AC/JS: Yes!