December 10, 2014 at 7:51 pm

|

on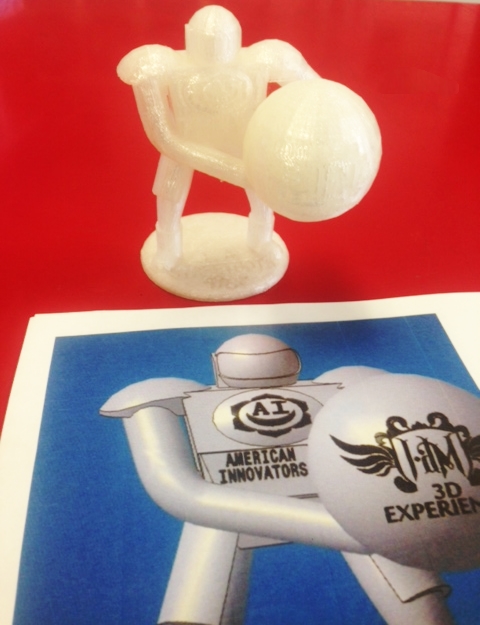 Last week, i.am 3D Experience students saw one of their creations launch into outer space on the Orion Spacecraft's maiden voyage!
A 3D-printed robot sculpture, mascot of Roosevelt High School's FIRST Robotics team the "L.A. Streetbots," was included in the payload for the Orion spacecraft's test flight on December 5, 2014. NASA's Orion program focuses on travel between Earth and Mars in order to test capabilities that future human Mars missions will need.
For this historic flight, Lockheed Martin led an initiative to include artifacts from STEM/STEAM organizations on the Orion payload, in order to encourage more students to study space-related fields.
When Lockheed invited will.i.am and the i.am.angel Foundation to participate, we put the challenge to our students in Boyle Heights to come up with a great memento for outer space!
With the help of Dassault Systѐmes, American Innovators and Cerritos College of Engineering, students in our i.am 3D Experience program designed a 3D model of the "Streetbot," the mascot of their school robotics team.
The students along with mentors from American Innovators designed the robot sculpture in CATIA V6 software, which was donated by Dassault Systѐmes.  Their design was then 3D-printed at Cerritos College on an SLA machine, which cures thin layers of liquid resin using a laser to gradually build up the form.
This project was a great way for the students to learn more about the workflow from ideation to design to manufacturing.
It was a great honor for our students to be a part of a historic mission that could help bring human space travel to Mars possible one day!  Special thanks to Dassault Systѐmes, American Innovators, and Cerritos College for helping to bring students' ideas to life.
You can read more about NASA's Orion program and Lockheed Martin's STEM outreach efforts here.