September 8, 2018 at 1:33 am

|

on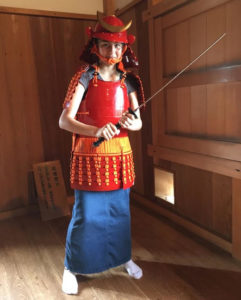 This summer, STEM Academy of Boyle Heights student Marlene Hernandez traveled to Japan for a study abroad program with a little help from the i.am Angel Foundation.
After much research on different study abroad programs, Hernandez was happy that she was accepted to participate in a program called The Council on International Educational Exchange (CIEE) that granted her an opportunity to accomplish one of her goals in life.
Hernandez received a scholarship from CIEE to cover the tuition for the program, but it did not cover airfare to Japan.  Although she had plans to raise money to pay for her travel by organizing a yard sale and selling food at her house, the i.am angel foundation stepped in to help pay for her remaining costs.
In Tokyo, she stayed with a host family and learned a lot about how different things are in Japan compared to the United States. She also got to visit temples, museums and other cultural sites during her visit. One of the places she visited was the Shiroishi Castle, where she got to wear samurai armor and a robe that Japan's princesses would wear.
This experience helped Hernandez become more aware of other cultures and practices that she has never been exposed to back home. As great as the experience was for her, the most fun she had was being able to interact with the local Japanese people. It is one trip she won't soon forget.
Written by Leslie Torres and Chris Linares from the STEM Academy of Boyle Heights