January 13, 2023 at 6:50 pm

|

on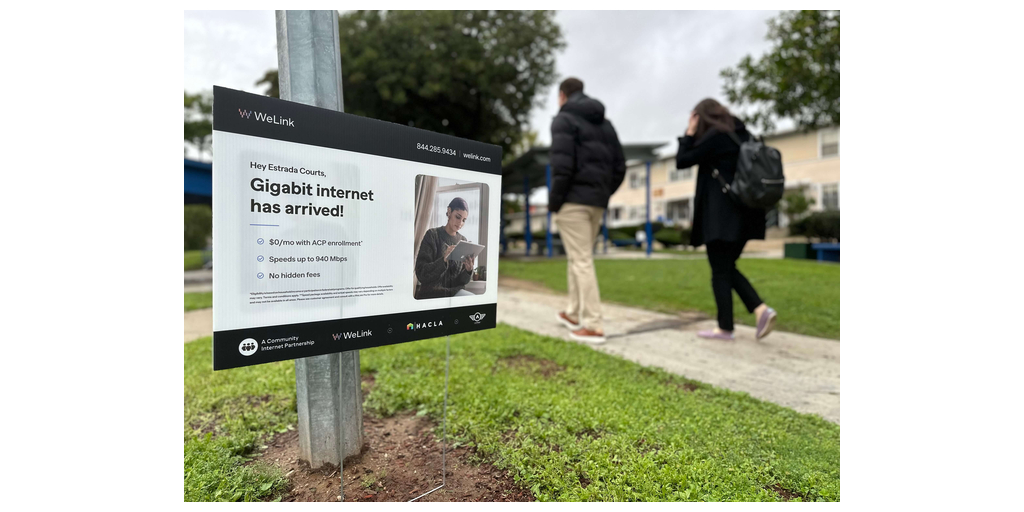 WeLink announces a partnership with i.am/Angel Foundation and HACLA to provide high-speed internet access to help close the digital divide in communities in Los Angeles
LOS ANGELES–(BUSINESS WIRE)–As part of a new multi-sector partnership involving the Los Angeles Mayor's Office, the Los Angeles Unified School District (LAUSD), the Housing Authority of the City of Los Angeles (HACLA), WeLink, and the i.am/Angel Foundation, hundreds of residents living in the 414 apartments at the Estrada Courts housing association have improved access to zero-cost ultra-high-speed internet that can simultaneously power remote work, school lessons, doctor appointments, new skill development, content streaming, video gaming, free digital content from the Los Angeles Public Library, free online classes, and more.
As part of this pilot initiative, WeLink has also installed no-cost internet service at the Boys & Girls Clubhouse within Estrada Courts. Microsoft's Airband Initiative will provide digital literacy and skills training offerings along with access to affordable computing devices to help residents make the most of their new internet service. Microsoft's Airband Initiative works to advance access to high-speed internet and meaningful connectivity as a fundamental right, including through public-private partnerships such as this one.
During the pandemic, students in the East Los Angeles/Boyle Heights neighborhood faced learning loss and isolation. Parents faced barriers to keeping their jobs when work went remote and had trouble applying to new jobs online. Children participating in will.i.am's i.am/Angel Foundation-supported STEM education programs lacked internet services required to learn remotely. For the first year of the pandemic, internet service was accessed via a patchwork combination of borrowed hot spots and sitting outside local restaurants and the Boys & Girls Clubhouse. Families too often had to make tough decisions about which child would be able to use the sole computer or tablet in the household to attend remote classes.
As part of will.i.am's i.am/Angel Foundation, which has been investing in the neighborhood of Boyle Heights since 2009 to improve educational opportunities and services, the establishment of high-speed internet by WeLink is a critical infrastructure improvement that will support residents at Estrada Courts with internet service on par with the best available in the United States today. WeLink's next-generation technology is being established in neighborhoods in need first, not only to close the digital divide, but to prevent new disparities from forming.
"During the pandemic, the digital divide crisis in my hometown neighborhood was laid bare for all to see. America unfortunately remains a nation of digital haves and have-nots. Reliable, fast internet is no longer a luxury, it's an everyday necessity," said will.i.am, Founder & President of the i.am/Angel Foundation. "Bringing WeLink to Estrada Courts with the help of LAUSD, HACLA, and the City leadership is the first step in making sure every person in Los Angeles has high-speed internet, regardless of zip code."
"In an age when teaching and learning is increasingly digital, access to reliable high-speed internet is simply a human right," said Alberto M. Carvalho, Superintendent of LAUSD. "Los Angeles Unified's All Families Connected program provides our families with internet access and we are excited to work with will.i.am, i.am/Angel Foundation, WeLink, and HACLA to offer internet service to even more households surrounding our schools in the Boyle Heights community."
"HACLA is firmly committed to ensuring that high-speed internet is available to all households no matter what neighborhood they live in or their income and is pleased to continue to find like-minded partners like WeLink and the i.am/Angel Foundation," said Doug Guthrie, President & CEO of HACLA. "I am excited to see the impact of this technology as it gives our residents better access to information, communication, education, and work."
"WeLink is a mission-driven internet Service Provider and we're proud to use our breakthrough technology to deliver ultrafast internet to HACLA communities," said Kevin Ross, Founder & CEO of WeLink. "It's an honor to deploy our first Los Angeles network at Estrada Courts — closing the digital divide and leveling the playing field so that every household can have the best internet out there. By teaming with HACLA and LAUSD through the vision and leadership of will.i.am, we can do more to help those most in need. We envision this network as the first of many, reaching HACLA residents, LAUSD students, and underserved communities throughout Los Angeles."
"Every child should have the opportunity to learn online and every family should have the opportunity to succeed in today's digital economy – no matter the size of their bank account or where they live. At WeLink, we are providing our groundbreaking technology to everyone, starting with communities that have been too often overlooked and under-resourced," said John Paul Farmer, President of WeLink Cities and former Chief Technology Officer of New York City. "As CTO of the Big Apple, I saw how deep the need is in communities across America and I witnessed the continued leadership of Los Angeles in developing new and innovative solutions. A holistic approach is the best way to eliminate the longstanding digital divide, which is why we are thrilled to work with the Mayor's Office, LAUSD, HACLA, Microsoft, and – of course – will.i.am and his i.am/Angel Foundation to build a strong digital foundation right here in Estrada Courts."
"We cannot foster social, economic, and racial inclusion and equity without addressing the digital divide. That's why we are excited that Microsoft connected us to the i.am/Angel Foundation and WeLink," said Norma E. Fernandez, CEO of EveryoneOn. "We look forward to collaborating with this innovative cross-sector partnership to ensure the Estrada Courts community is connected to high-speed internet and equipped to thrive in our digital society and economy."
Read the original press release here