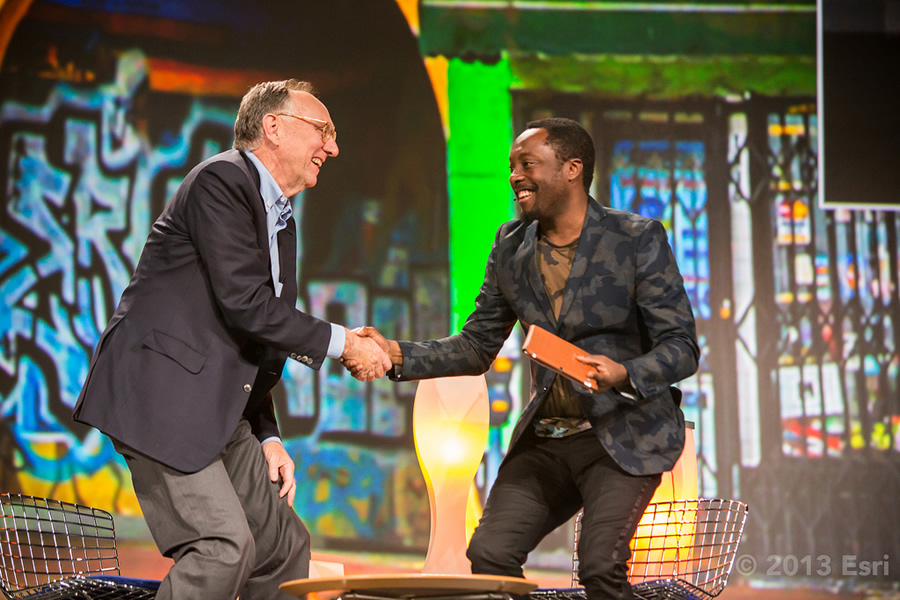 Esri president Jack Dangermond welcomes will.i.am to the Esri International User Conference.
It's not every day that a musician inspires a mapmaker.
But that's exactly what happened at the 2013 Esri International User Conference (Esri UC) in San Diego, California. It's where will.i.am, the hip hop/pop recording artist and founder of the Black Eyed Peas, gave Katherine O'Brien, the GIS coordinator for facilities at the University of North Carolina (UNC), Chapel Hill, the nudge to commit to mentoring students in how to use geospatial technology.
"I need to go back and work with kids," said O'Brien, whose interest in helping young people learn GIS was kindled by a talk given by will.i.am at the Esri UC. He started the philanthropic i.am Angel Foundation in part to support science, technology, engineering, and mathematics (STEM) education in the classroom. Esri president Jack Dangermond spoke one-on-one with will.i.am, born William James Adams, at the Esri UC Plenary Session about his passion for helping young people get a strong STEM education, including learning to use GIS.
Their 30-minute conversation followed a demonstration of mapping projects by four 11th-graders from Roosevelt High School in the Boyle Heights neighborhood of Los Angeles, California. Though he did not attend school in Boyle Heights, will.i.am grew up there and now supports the community and the students through the i.am Angel Foundation. He helped arrange for the students to use ArcGIS for their school projects after meeting Dangermond at a conference in 2012 and seeing the technology in action.
The i.am Angel Foundation chief of staff Enrique Legaspi said GIS is an innovative tool for people to better understand the challenges in their neighborhoods. "GIS maps are part of a new feature of education—getting students to think critically, collaborate meaningfully, and ask the right questions to design real solutions using GIS technology," he said after the students finished their presentation.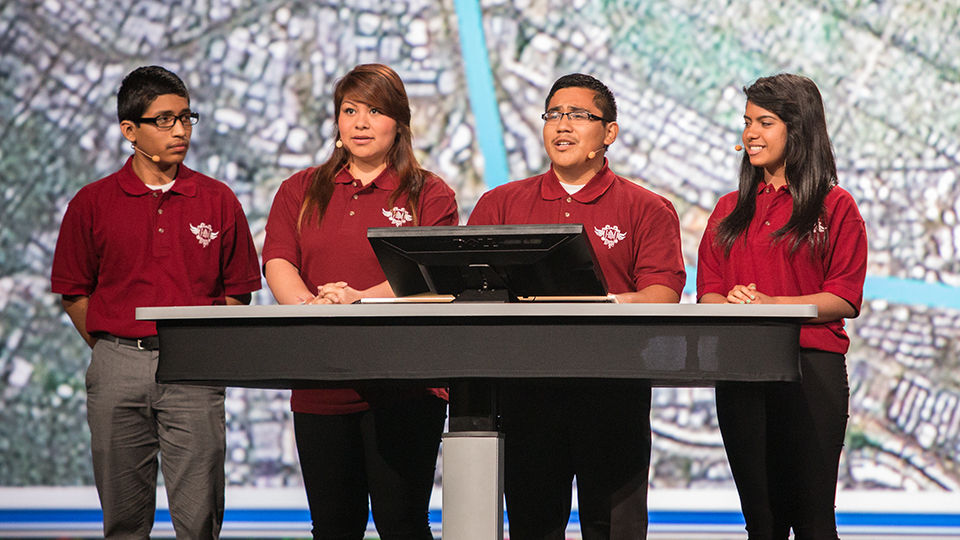 will.i.am followed up on that theme. "The maps are really like a filter. They filter information for you to make better decisions on where you are going and what to do," he told Dangermond. "I want to thank you for opening the doors and transforming these kids' lives with these tools."
will.i.am, who said he plans to study computer science starting in the fall, emphasized that in a world that now uses technology so much to communicate, it's important to be tech savvy and computer literate. "Most people don't read or write code, but we all use technology to communicate," he said.
Gini Connolly, the GIS manager from the City of Hurst, Texas, took will.i.am's message of promoting a STEM education to heart. "will.i.am was pretty neat with what he's doing," Connolly said during a visit to the i.am Angel Foundation section in the Map Gallery, where maps from the students' projects were displayed. "He's a change agent." She was touched by his story about growing up in Boyle Heights, a predominantly Latino working-class neighborhood in East Los Angeles, and his desire to help the youth pursue their education and dreams. "He's humble," said Connolly. "Our eyes kind of welled up."
Read the full article here.