March 6, 2017 at 10:52 pm

|

on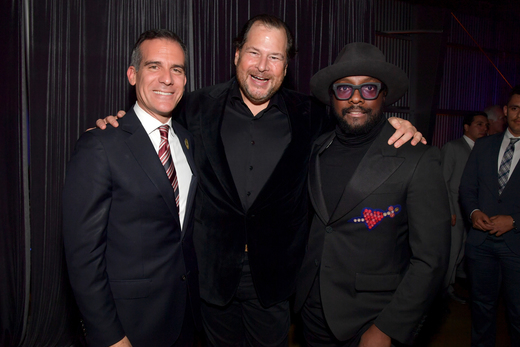 will.i.am Hosts i.am.angel Foundation's Grammy Week TRANS4M Celebration Honoring Salesforce Chairman & CEO Marc Benioff, with Special Performances by Black Eyed Peas
 Sixth Annual TRANS4M Gala Raises More Than $1.6 Million for STEAM Education Programs in Under-served Communities
Earlier this month, international recording artist, frontman for Black Eyed Peas, entrepreneur and philanthropist will.i.am hosted his sixth annual TRANS4M event in Hollywood benefitting the i.am.angel Foundation, which raised more than $1.6 million dollars on February 9, 2017. Proceeds from the evening benefit the i.am.angel Foundation's mission to continue to accelerate TRANS4Mation in the communities of Boyle Heights/East Los Angeles, Watts/South Central Los Angeles, and Ferguson, Missouri through promotion of STEAM education (science, technology, engineering, arts and math) access for students in these under-served communities.
The TRANS4M Gala event is part of will.i.am's larger mission to drive positive transformation in the Boyle Heights neighborhood of Los Angeles where he grew up. Founded in 2013, the number 4 in TRANS4M represents the four pillars and driving forces involved in improving the state of chronic societal problems: business, government, non-profits and community volunteers.
The intimate evening that hosted 500 guests from the worlds of technology, venture capital, virtual reality, entertainment and philanthropy took place across two locations. Starting at The Future, will.i.am's creative compound in Hollywood hosted a VIP reception featuring student demonstrations of robotics, ESRI GIS mapping, and app development projects. Reception entertainment was provided by Parker Lane and DJ Sean Patrick.
Immediately following the reception, guests moved to Milk Studios for the gala dinner by Winsome Restaurant that featured a Q&A between will.i.am and TRANS4M 2017 honoree Salesforce Chairman & CEO Marc Benioff, remarks by City of Los Angeles Mayor Eric Garcetti, and a performance by Black Eyed Peas. The after-party featured a DJ set by Ali Shadeed Muhammad from A Tribe Called Quest, who capped off the evening.
A live auction featuring unique experiences donated to support the evening included: a safari at Richard Branson's Mahali Mzuri Lodge in Kenya; VIP tickets to The Roots at the BottleRock Music Festival; tickets and meet & greet with Chris Rock at The Total Blackout Tour; tickets and meet & greet with Dave Chappelle a the NBA All Star Weekend; VIP tuition at Singularity University, and private movie screening at FOX Studios.
"In the 2.0 economy, it's vital that we equip students with the knowledge and skills that will prepare them to succeed, and to eventually return to Boyle Heights to create new jobs that uplift the entire community. Math is a chisel, and computer code is a new form of paint brush, both essential skills taught at i.am College Track," said will.i.am, founder of the i.am.angel Foundation, and Founder & CEO of i.am+. "On behalf of all the students in our programs, thank you to our donors, program partners and volunteers that believe in the power of STEAM education."
i.am College Track continues to drive positive results for students attending under-served schools in Boyle Heights/East Los Angeles, Watts/South Central Los Angeles and Ferguson, Missouri.
285 students now attend i.am College Track site in Boyle Heights
The Class of 2016 that graduated this past May includes 45 students, 98% are now attending College and 4 year Universities.
95% of students are the first in their families to attend college
Awarded more than $650,000 in scholarship money
Sponsors 17 FIRST Robotics teams at 12 schools in the Los Angeles area, as well as Ferguson, Missouri
Organized 12 civic hackathons and taught 500+ students how to write computer code
Donated 650 laptops and computers to under-served schools in the Los Angeles area
Alec Siegel, a 12 year old student at Studio School in Los Angeles who is part of an i.am.angel foundation-sponsored FIRST Lego League robotics club commented: "I go to school in an industrial neighborhood where you see homeless tents and gang members, and nine out of every ten students at my school lives below the poverty line. The i.am.angel foundation is giving me the inspiration and tools like robotics club to hold on to my dreams of technological advancement."
The i.am.angel Foundation supports its student scholars that are now attending college. The foundation also provide scholarship assistance to help students graduate from college debt-free.
Sponsors and donors who helped make TRANS4M 2017 possible include:
Platinum Sponsors: Marc Benioff; Salesforce; Find Your Grind Foundation
Gold Sponsors: Emerson Collective; Ron Conway; Sandy Robertson
Silver Sponsors: Ahrendts-Couch Foundation; Nigro Karlin Segal Feldstein & Bolno; Sean Parker Foundation
Bronze Sponsors: Accenture; Hertz, Lichtenstein & Young LLC; MemBrain; FIRST
will.i.am created the i.am.angel Foundation to TRANS4M lives through education, inspiration and opportunity.  The private foundation was launched in 2009 with a mission to provide assistance to needy college-bound students, and now supports programs that provide college scholarships (i.am scholarship), college preparation (i.am College Track), and opportunities in STEAM education (Science, Technology, Engineering, Arts and Math). To learn more about the foundation, please visit www.iamangelfoundation.org.