June 23, 2021 at 12:00 pm

|

on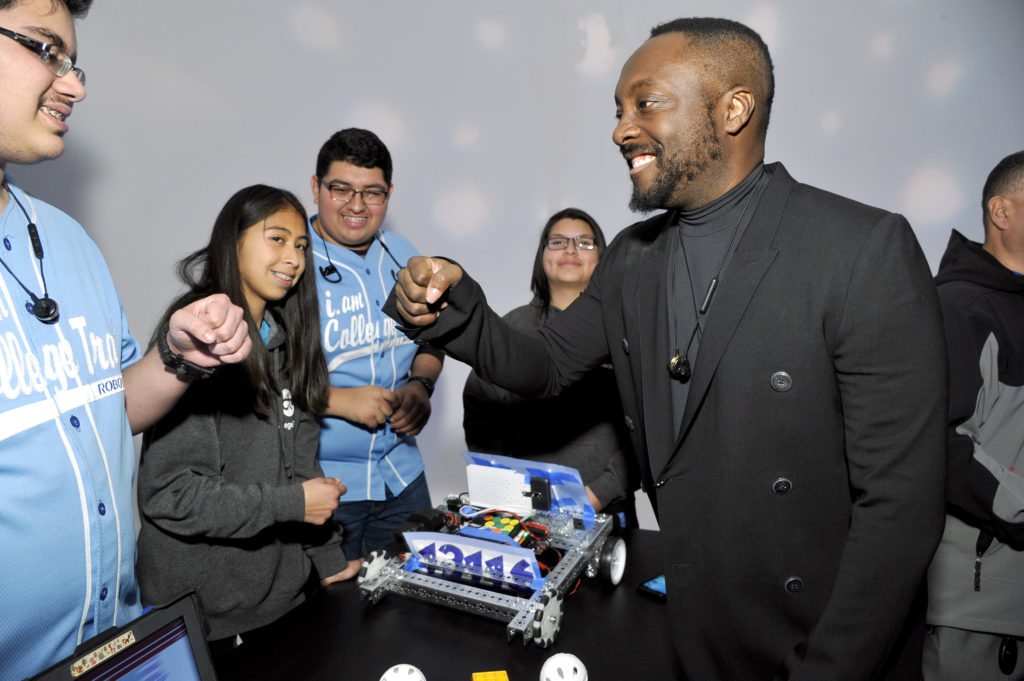 LOS ANGELES (June 23, 2021) – Los Angeles Unified Superintendent Austin Beutner and musician, tech entrepreneur and philanthropist will.i.am today announced a new effort to expand STEAM (Science, Technology, Engineering, Arts and Math) education for students in underserved communities. Los Angeles Unified has seen the positive success the i.am Angel Foundation has achieved in Boyle Heights by serving 1,400 students during the past 11 years.
Now, Los Angeles Unified and will.i.am's i.am Angel Foundation are teaming up this summer to bring STEM skill sets to more than 400 new robotics clubs from middle and high schools. They will be signing up as many as 12,000 students to participate when the school year starts in August.
"12,000 more students will have the opportunity to learn a how to play new team sport – building robots and competing alongside friends," Superintendent Beutner said. "STEAM education will provide students with hands-on learning opportunities and the knowledge needed to earn good-paying jobs in the technology industry."
"We love learning and we love technology! This is an exciting moment for Theodore Roosevelt High School and Los Angeles Unified," Board Member Mónica García said. "I am grateful to will.i.am and the i.am Angel Foundation for investing in education and career pathways and I hope to continue providing opportunities like these to students in other underserved communities."
Created by will.i.am in 2009, the i.am Angel Foundation supports students living below the poverty line in his hometown neighborhood of Boyle Heights/East Los Angeles and beyond to provide access to after-school tutoring, STEAM courses, robotics clubs and computer coding classes.
"Every school has a basketball court and many have football fields, but only two businesses benefit from these skill sets, and it's mostly for boys," will.i.am said. "Football is great, but my niece will never play for the NFL. With robotics clubs, boys and girls can learn valuable STEM skills and how to work in teams – knowledge that helps secure college scholarships and, eventually, high-paying jobs. With FIRST Robotics, every child can be a winner in school, work and in life.  My mission is to put a robotics club in every public school, and we are off to a great start with this new program in Los Angeles."
At a kick-off event later today at Roosevelt High School in Boyle Heights, the robotics team from the Girls Academic Leadership Academy will compete against the Roosevelt High School robotics team. The GALA team will be led by Superintendent Beutner and the Roosevelt team by will.i.am.
More information about the robotics clubs can be found here.