July 21, 2014 at 6:54 am

|

on
From The Prince's Trust, originally posted on 7/14/2014: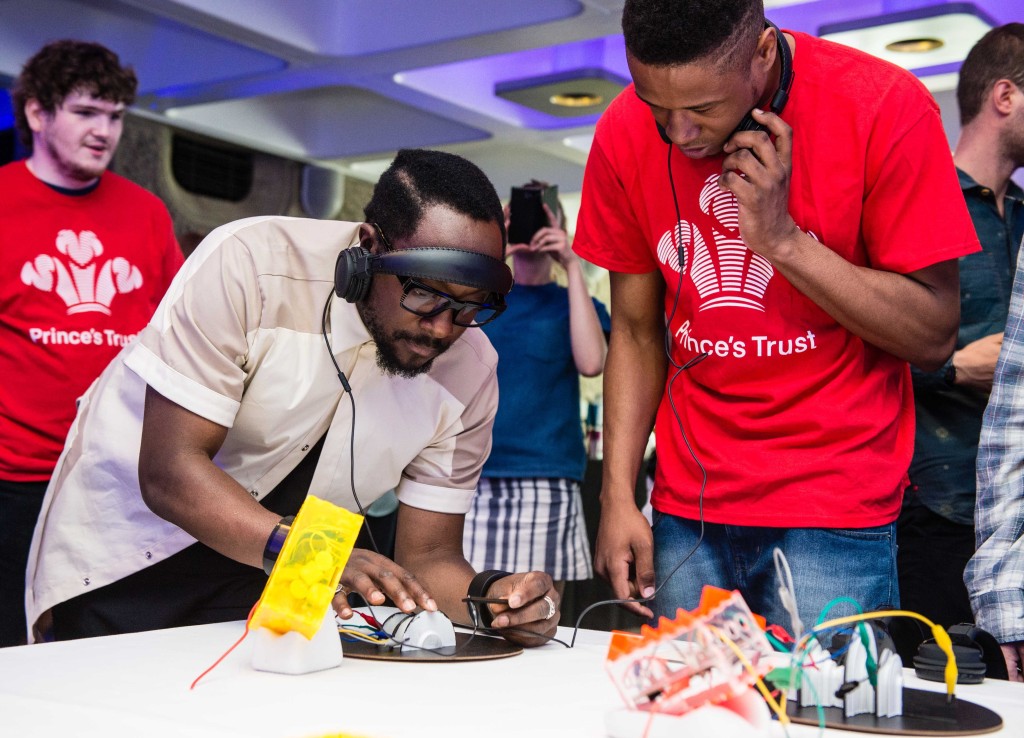 will.i.am has supported hundreds of unemployed young people through STEM-focused Prince's Trust programmes.
Young people completing a Prince's Trust course were today visited by will.i.am, who saw how his £500,000 donation is making a difference to the lives of disadvantaged young people across the UK.
The musician and philanthropist witnessed how his £500,000 donation, via his i.am Angel Foundation, is helping young people build the digital skills they need to find a job.
He was able to take part in playing a newly-created 3D printed musical instrument, created by the young people, which was today being showcased at the Barbican's Digital Revolution exhibition, which runs until 14 September.
The week-long course, Get Started with Product Design delivered in partnership with Makerversity, is designed to introduce unemployed young people to creative technologies and digital product design, building their skills, confidence and creativity so that they are able to find a job in the future.
will.i.am, through his i.am Angel Foundation, has supported more than 800 disadvantaged young people through Prince's Trust programmes focusing on technology and digital skills, following his donation in 2012. The funding has also supported a further 3,600 young people through short inspirational STEM sessions, run in partnership with the Science Museum
will.i.am said: "I am so proud that my work with The Prince's Trust is giving young people from vulnerable backgrounds the chance to join the digital revolution and make a valuable contribution to modern society.
"Around the world I have witnessed how unemployment, a lack of education, poverty and disadvantage can permeate someone's path in life. I have no doubt that a kid from Brixton or Birmingham can create something that changes the world, with The Trust's help."
This comes two years after will.i.am teamed up with The Prince's Trust to help the UK's most disadvantaged young people get their lives on track, by personally donating £500,000 to The Trust via his i.am Angel Foundation. The i.am Angel Foundation was launched by will.i.am in 2009 to transform lives through education, inspiration and opportunity.
One of the young people who met by will.i.am was Alex Morrison, 23 from Willesden, London. Alex had been struggling to find a job for eight months until he came across The Prince's Trust.
Alex said: "It was a tough time. I felt that no-one wanted to give me a chance. I was applying for ten jobs a week but never heard anything back and started to wonder where my life was headed."
Throughout the week-long course Alex learnt about all aspects of product design and learnt new skills in coding, programming and 3D printing, as well as being able to use MaKey MaKey devices and a 3D modelling programme.
Alex said: "My favourite part of the course was designing the logos for products. It was incredible seeing something that was in my mind coming to life! This course has been amazing, and it might sound cheesy, but I actually feel better about my life now."
Tara Leathers, Prince's Trust Fundraising Director said: "will.i.am's donation has been a catalyst for The Prince's Trust, creating a momentum that has brought technology to the forefront of our work with young people.
"The aspiration is to equip tens of thousands of young people with the digital skills to help them find work and embed digital training across all of our courses. We can't thank will enough for the generous support he has given The Trust."