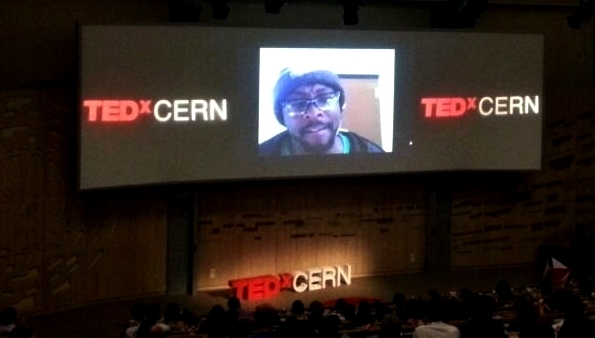 Earlier today will.i.am participated in TEDxCERN near Geneva, Switzerland on stage virtually via video link, engaging with talented student performers and a student scientist.
will.i.am watched as two school choirs jointly performed "Reach For the Stars," the song he debuted on Mars, beamed back to Earth from the Curiosity Rover last summer. The student choirs were from the Collège Internationale Ferney Voltaire in France, and the International School of Geneva in Switzerland.
After the performance, will.i.am took on a live Q&A session with young scientist and TEDxCERN speaker Brittany Wenger, the 2012 Google Science Fair Grand Prize winner. Brittany began studying neural networks when she was just 13 years old. She won the Google Science Fair for her project, "Global Neural Network Cloud Service for Breast Cancer." Her Cloud4Cancer service aggregates data from biopsies done with the fine-needle aspiration process, instead of the more painful surgical option.
Here's a summary of will.i.am and Brittany's conversation:
Brittany Wenger: "You've been doing a lot of work with kids encouraging them to pursue STEM (Science Technology Engineering + Mathematics), why is that?"
will.i.am: "The world needs more smart young people who are career-ready to fill the jobs of tomorrow in science, physics, medicine, energy, aviation, automotive, space exploration and many other fields. Today it's a core requirement to be proficient with computers. More people need to know how to write code, the language that powers computing. Even industries you don't think of as STEM-based, like the fashion business, now rely on computing and STEM skills every day — for example, the fashion industry uses very sophisticated pattern-making and fabric-cutting machinery. For students who aspire to work at global centers of excellence like CERN, STEM skills are essential!"
Brittany Wenger: "If kids of today learn more about the science of tomorrow, what will be the impact in the world?"
will.i.am: "Outstanding young people who study STEM today will be the leaders of tomorrow. They will invent new computing technologies, kick it up in social media, develop new time-saving apps, and find better diagnostic methods and treatments for patients facing serious illnesses like cancer and Alzheimer's."
Brittany Wenger: "Have you visited CERN or the Large Hadron Collider? If so, what did you think of it?"
will.i.am: "I would be honored to be invited to visit! Serious STEM skills were involved in building the Large Hadron Collider."
After the Q&A session, Brittany and the attendees seated in the audience bid will.i.am farewell.
TEDxCERN is an independently organized one day conference under license by TED. Photo courtesy of TEDxCERN.