April 29, 2015 at 9:32 pm

|

on
From the St. Louis American, originally published on April 29, 2015 by Mariah Stewart: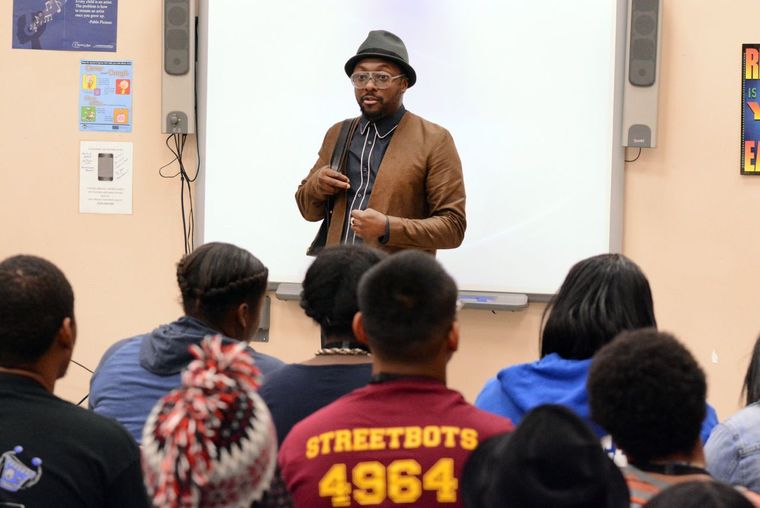 Grammy award-winning artist Will.i.am recently announced he will help fund a science, technology, engineering, and technology (STEM) program for high school students in Ferguson.
Last week, around 50 students gathered inside of Ferguson's McCluer South Berkeley High School to hear more about FIRST Robotics competition, a non-profit organization designed to youth develop interest in science and technology.
Audible gasps and smiles filled the room, once the "Scream & Shout" singer entered. Will.i.am began his introduction by telling the students about his humble upbringing.
"It seems like just yesterday, I was standing in the WIC line, getting food stamps – and now I'm here getting a private jet," he said.
The musician encouraged students to continue their education and to not solely rely on music or sport aspirations for a career.
"If you don't take science or some engineering degree or mathematics, Ferguson will just end up like Ferguson," he said. "Because ain't nobody coming unless something's burning. The only way to change it is for you to change it yourself."
Olga Hunt, science coordinator for Normandy School District, said her district did not participate in the robotics program this year because of the distractions of Ferguson and student transfers.
"With all the transitions and everything going on, we had to pull back on it," Hunt said. "We lost a lot of our students. But we're ready to get it started. It's just exciting to see so many of our girls interested in it as well."
Will.i.am said his attention was brought to the Ferguson-Florissant and Normandy school districts, because every year he attends the First Robotics national championship in St. Louis, yet never sees them participate. The singer/philanthropist's funding will include bringing a robotics team to the Ferguson-Florissant School District.
Megan Smith, U.S Chief Technology Officer, also came to speak to youth. Smith said if it hadn't been for access to STEM activities in her youth, she never would have earned the title she holds today.
"FIRST Robotics is really about those beginning building blocks of learning how to do these things, so in your future you'll be able to fix the world and make an impact," Smith told the students.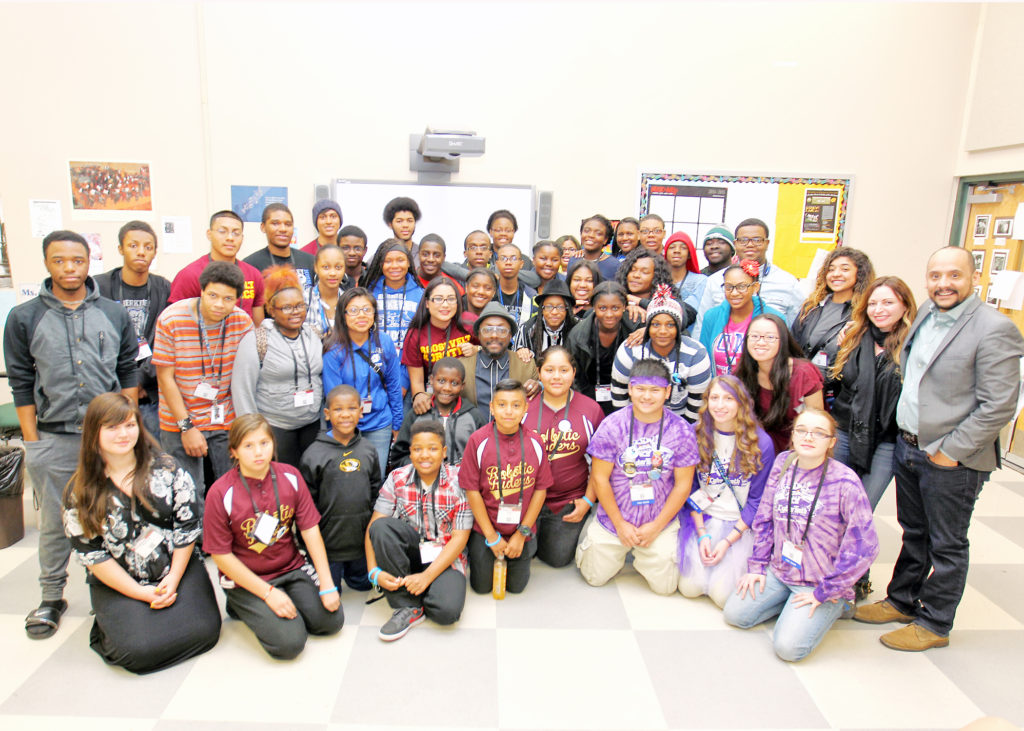 "One of the things that's a real problem is we are missing technical people who are women and people of color, so, we don't really see ourselves in the history books and in the stories."
Smith is currently working on a project titled "The Lost History of Technical Women and Minorities." She said, "I go and find people and make sure we know their stories."
Gwendoyln Diggs, assistant superintendent of Education Operations for Ferguson-Florissant, stressed her excitement about the district's collaboration with Will.i.am.
"I really think it's important that our students have afforded to them all the opportunities that are available to students in more affluent districts," Diggs said, "because it is important that our students are able to compete and be a vital part of society as they grow up."
This story is published as part of a partnership between The St. Louis American and The Huffington Post.