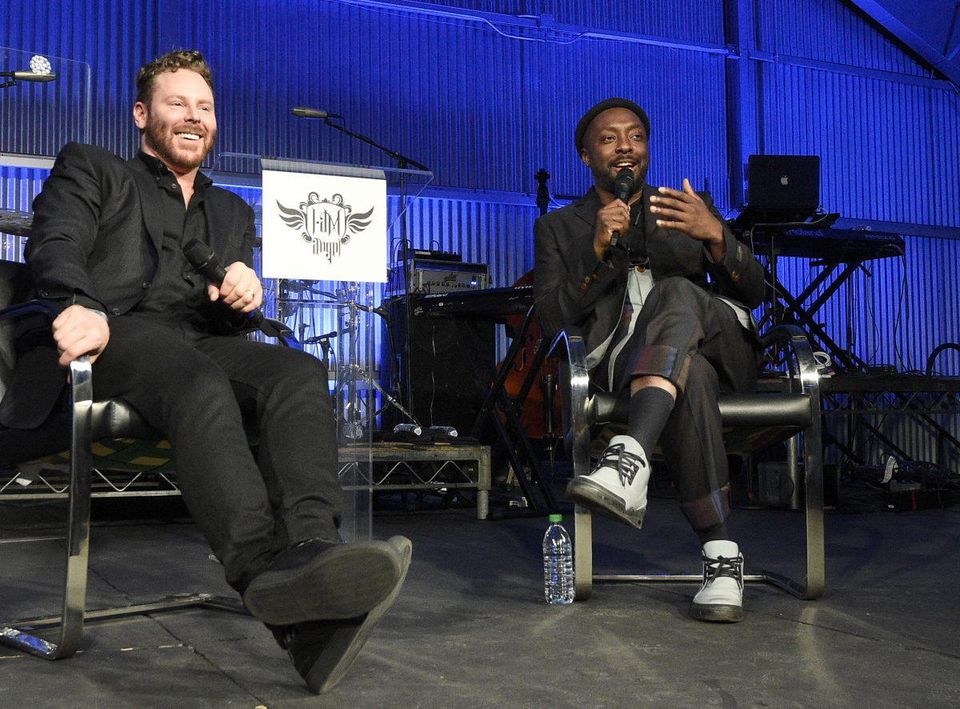 Inside The Exclusive Event Disrupting The Future Of Tech
As part of the driving force behind a group that has sold an estimated 76 million records worldwide and snagged six Grammy awards, among many other accolades, Will knows a thing or two about reaching young, pop culture demos. And over the past six years, he has applied both such creative acumen as well as technology interest to develop opportunities that will help shift the paradigm in the tech world today.
Having noticed that many in tech did not look like him, Will set out to change the picture. Through his creation and work through the i.am Angel Foundation, he and his team offer a range of STEAM (science, technology, engineering, arts and math) programs and opportunities to the underserved communities of Boyle Heights/East Los Angeles, Watts/South Central Los Angeles, and Ferguson, Missouri so that students from various socio-economic conditions can compete for jobs of the present and future. This is about not only providing avenues – or the "pipeline" –  but providing such avenues through a personality to which the recipients can actually relate. Explains Will, "Equal access to quality education, including STEM skills that are in demand at companies in every community is a social justice issue. When kids attend under-performing schools with outdated courses, they are being set up to fail, to drop out, go down the wrong path, and on their way to filling up cells in for-profit, privatized prisons."
A large part of the funds that help offset such potential situations is raised during the annual TRANS4M Gala which just took place a few days ago in Hollywood, California and which honored noted tech entrepreneur and investor, Sean Parker. After cocktails and touring of student exhibits and projects, attendees were seated at various tables at Milk Studios for dinner, an intimate on-stage Q&A with Parker by Will, and performances by both Earth, Wind & Fire as well as the Black Eyed Peas.
In its seventh year, the event welcomed approximately 350 guests including such notables as television show creators/producers Norman Lear and Lawrence Bender, actresses/activists Rosario Dawson and Goldie Hawn, music industry notables Hans Zimmer and Moby, professional athletes and a variety of technorati from the Silicon Valley venture community such as Ron Conway. Sponsors included Salesforce, Emerson Collective, J.P. Morgan Chase and Angela Ahrends, among others.
"What the i.am Angel Foundation does with the help of such events is vital to increasing the pool of diversity candidates who will eventually enter the workforce, especially those with STEM skills," Will told me. "Only 20% of under-served minority students that get accepted to college actually graduate, a statistic that is unacceptable."
Indeed, work at the Parker Institute for Cancer Immunology is heavily dependent on such STEM knowledge, hence the reason behind Parker being honored during the gala. Parker, Chairman, Parker Institute for Cancer Immunotherapy said, "I'm very grateful to be honored tonight because I'm receiving it both from a foundation I admire and its thoughtful leader, will.i.am, who is paving the path for transformative change in education." He continued, "I also want to thank all the partners working with i.am Angel Foundation, especially Laurene Powell Jobs and College Track for helping to bring in after-school programs, scholarships, and college prep education for underserved communities. These leaders understand how crucial it is that children everywhere deserve an equal opportunity to receive a quality education in an enriching environment."
Founded in 2013, the number 4 in TRANS4M represents the four pillars and driving forces involved in improving the state of what the organization sees as chronic societal problems: business, government, non-profits and community volunteers. Thus the Foundation's programs include such offerings as i.am FIRST which is the organization's initiative to bring FIRST robotics programs to the youth of Boyle Heights. Will has partnered with inventor and FIRST Robotics founder Dean Kamen to encourage and celebrate the engineering prowess of young tech minds.
In addition, i.am College Track empowers students to pursue a college degree. It is a comprehensive program that provides social and academic support to Boyle Heights students from Roosevelt High School each year. The Foundation notes that 98 percent of students in the program will be the first in their families to apply to college and that 94 percent come from low-income families that are living at or below the federal poverty level. College Track is designed to remove barriers that prevent students from earning their college degree through a four-part model, which includes support through tutoring, academic workshops and SAT and ACT prep, opportunities to explore workshops that cultivate students' creativity, leadership and socio-emotional skills, college completion advisory workshops and scholarship guidance, and College Success mentoring, academic and emotional support during college.
The i.am Angel Foundation raised $1.6 million from the latest Gala, and the funds will go to support more than 700 students affiliated with the programs.
Says Will, "When we motivate kids and keep them on a path to graduate from high school with top grades needed to get into college, and then support them through earning their four-year degrees (debt-free), we change more than one life – we lift up families and entire communities." And that's something any business should find inspiring, on a variety of levels.
Read the original article from Forbes here.