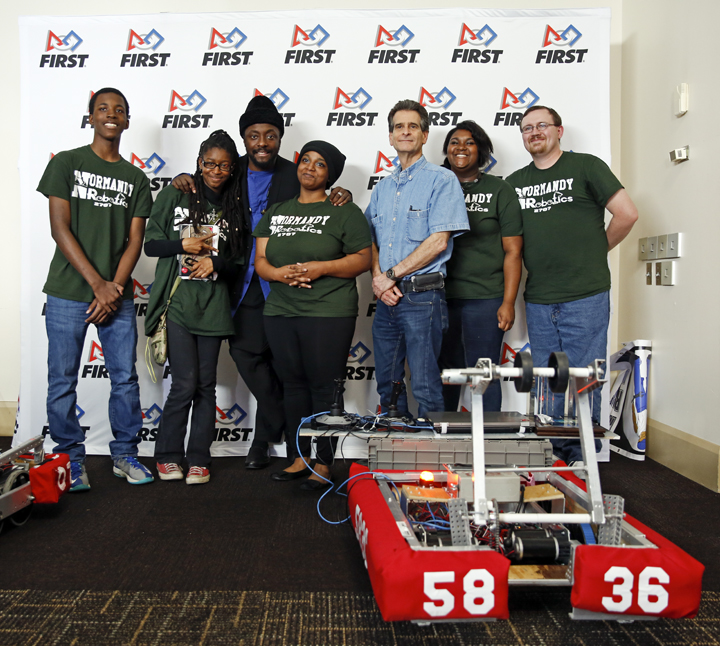 will.i.am attends the 2016 FIRST Robotics Championships in St. Louis and checks in with the two Ferguson high schools he supports.
One year after announcing his support to start robotics programs at two high schools in Ferguson, will.i.am met with students and teachers to check on their progress and check out their robots.
In 2015, will.i.am pledged his sponsorship of competitive robotics teams for McCluer South-Berkeley High School and Normandy High School to help inspire Ferguson students to get into STEM, and with the hopes of spreading positive opportunities for youth in area.
This year, in St. Louis once again for the FIRST Robotics Championship, will.i.am was pleased to find that the two Ferguson teams have accomplished a great deal.
Each team brought an impressive robot to the FIRST Championship to showcase. Dean Kamen, the founder of FIRST, joined will.i.am in interviewing the students and team coaches about their activities over the course of the year, and difficulties they've overcome bringing science and technology education programs to their community.
Both teams competed at the local St. Louis Regional in March, where the McCluer South-Berkeley team even won the Rookie Inspiration Award. The passionate students were excited to share their stories and show off their innovative creations.
i.am.angel Foundation has committed to funding another year of robotics for Normandy and McCluer South-Berkeley High Schools. We look forward to seeing even more students in Ferguson get into robotics, and to making STEM opportunities an established part of their education.